Title
Arts in Digital Spaces
Body
Welcome to the Arts in Digital Spaces Program, a project of the Forum of Regional Arts Councils of Minnesota, and your Regional Arts Council. 
Ready to take your art to digital spaces, but don't know where to start?
Whether you're starting from scratch or ready to build on your existing digital engagement, this FREE virtual workshop series will provide the tools you need. Get the training, capacity building, and support you need to take your art to digital spaces in this series of facilitated workshops--all based on your feedback. 
---
Thank you to everyone who participated in Phase 1 of this program and completed the questionnaire! The information submitted has been used to inform the content of the next digital experience, and what's needed in order to bring your art online. Phase 1 closed on October 16, 2020.
---
Phase 2 of the program continues here: Listen & Learn (and ask questions....)
The Arts in Digital Spaces workshop series continues with two webinars responding to the immense amount of data from the Phase 1 Questionnaire.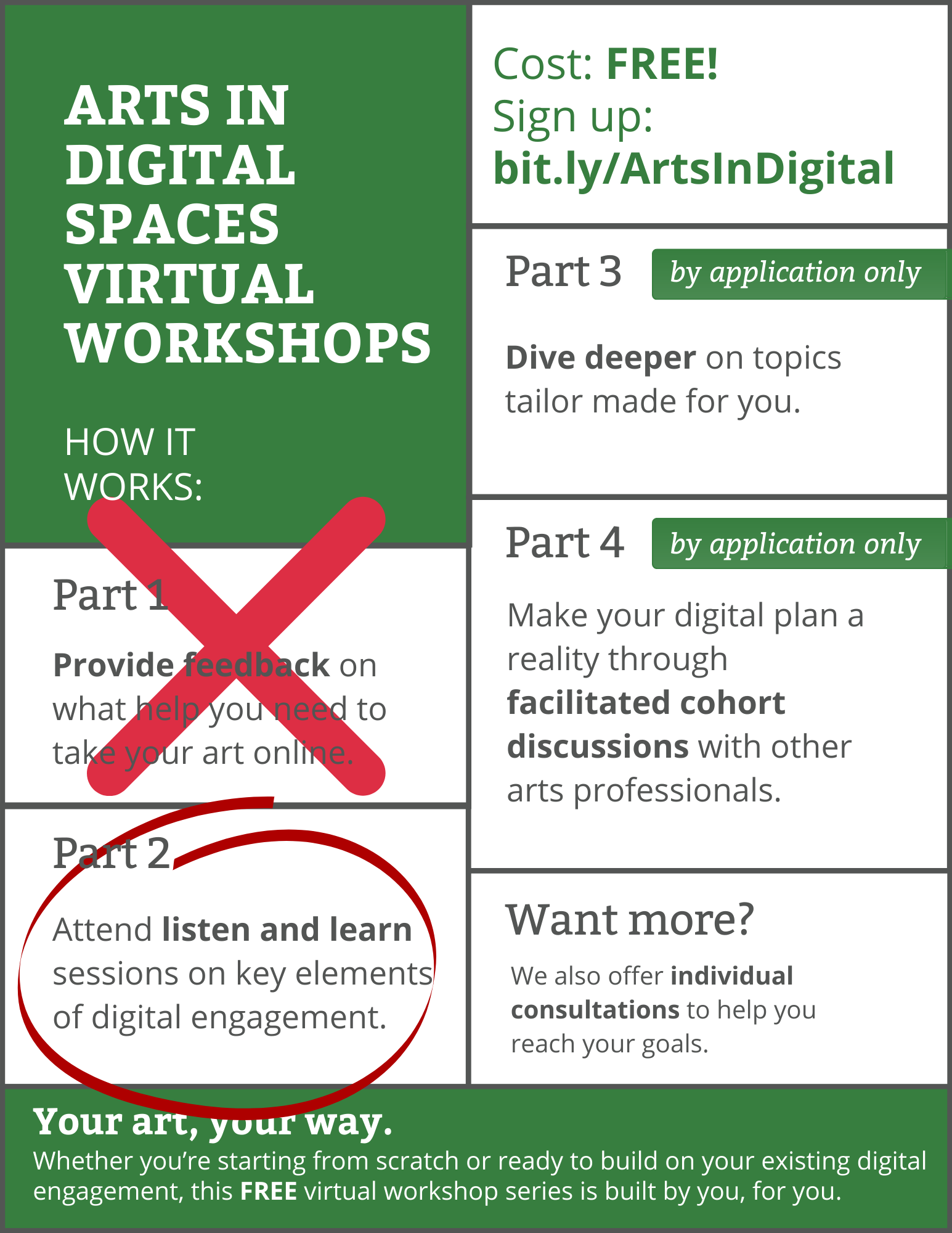 Webinar #1 - Arts in Digital Spaces Overview
YOUR questions are incorporated into a presentation on basic strategy and best practices for Arts in the Digital Space. While live attendance increases relevance for participants, this session is also available On-Demand through the calendar year.
Click the video above to watch!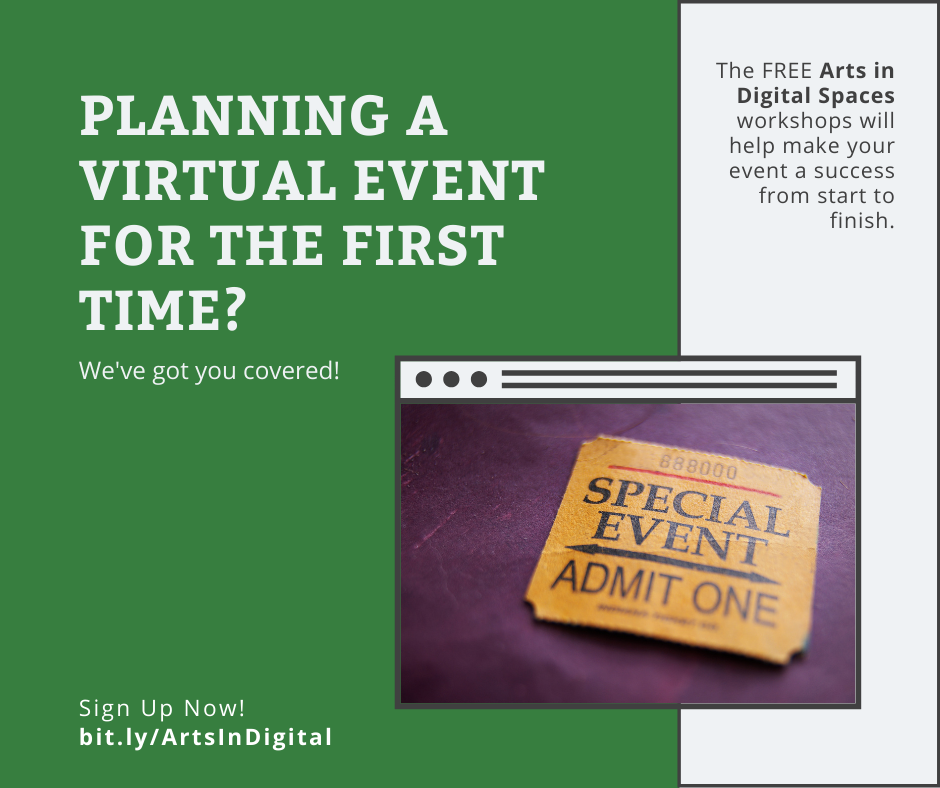 Webinar #2 - How to Create Vibrant Virtual Events
This webinar was recorded in July 2020, and details cutting edge ideas for creating and sharing virtual events with your audiences and patrons. Runtime is 107 mins, with a chapter heading for video scrubbing (fast-forwarding). This session is available On-Demand through the calendar year.
Free Downloads mentioned in the above workshops:
---
Phase 3:
Take a deep dive into four key topic areas. Your opportunity to gather ideas, go deep into four key aspects of digital work, and "road test" some digital concepts!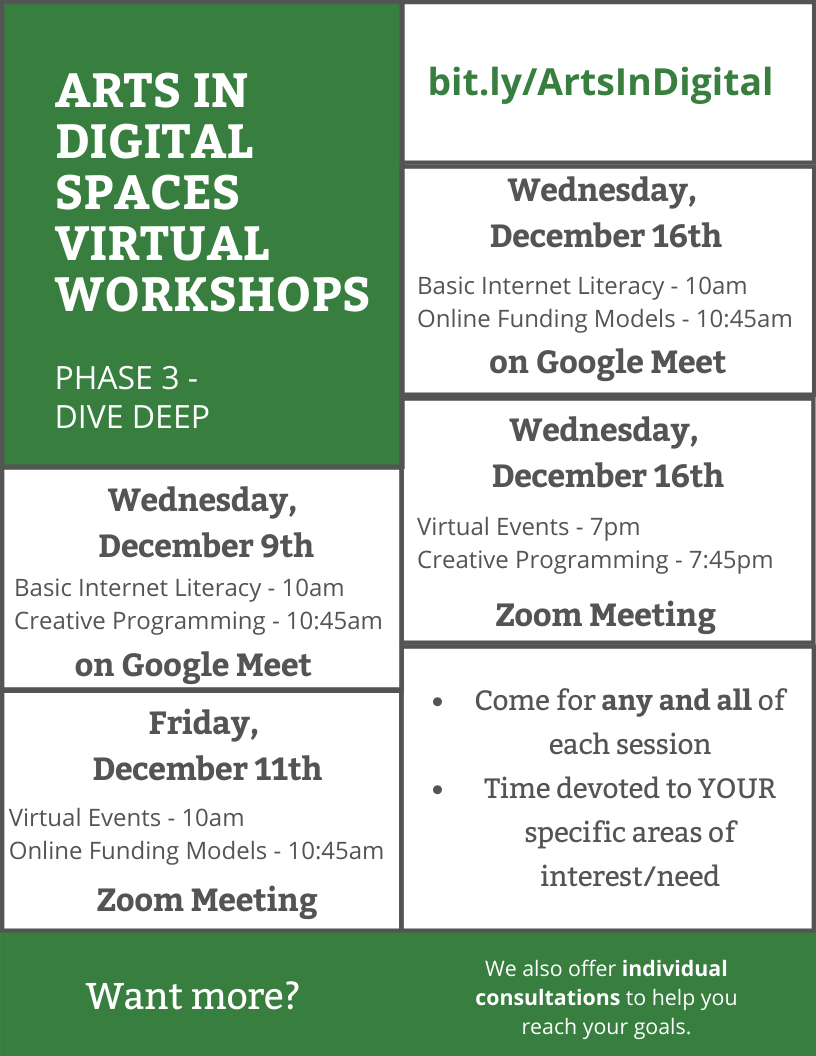 From the Arts in Digital Spaces series, the recording of the Virtual Events & Online Funding Models session on December 11, 2020.
 If you have trouble accessing any of the above, you can find all of the recordings from the two of the four sessions in Phase 3 at bit.ly/ArtsInDigital along with the rest of the freebies from Phase 1 + 2.
---
Phase 4: 
Now we turn to Phase 4, where YOUR project moves from conception to implementation, with the help of  a workbook module that will guide you along the way!! The Phase 4 workbook for initial strategy, visioning, and goal-setting aspects of your project is available here:
---
To visit the workshop series website and find out more about all four phases, click here: bit.ly/ArtsInDigital
Questions?
Email Adam Reinwald at adam@openvoicesllc.com
Sara Langworth - DeveloPlayLLC.com
Brian Dowdy - briandowdy.com
Reminder: all information available at bit.ly/ArtsInDigital